---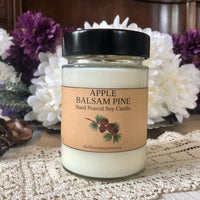 Enjoy this traditional blend of ripe apples, balsam and fir. Envelop yourself in the heavenly scent of a wintertime forest and bring the magic of the coldest season into the coziness of your home.
This hand poured soy candle from Shelby Marie features high quality fragrance oils and all natural soy wax. Each candle is individually hand poured, is phthalate-free and paraben-free, and is made with a paper core wick. All soy candles are dye and lead-free, and burn longer and cleaner than paraffin candles.
10.6 oz | 60+ hr burn time
Lovely as a gift! Crafted with care in Ontario, Canada.