---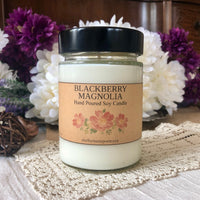 Blackberry Magnolia is a wonderfully fresh fragrance. It balances floral notes and ripe berries perfectly. A delightfully indulgent scent!
This hand poured soy candle from Shelby Marie features high quality fragrance oils and all natural soy wax. Each candle is individually hand poured, is phthalate-free and paraben-free, and is made with a paper core wick. All soy candles are dye and lead-free, and burn longer and cleaner than paraffin candles.
10.6 oz | 60+ hr burn time
Lovely as a gift! Crafted with care in Ontario, Canada.