---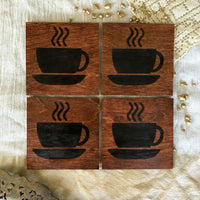 These handcrafted coasters feature a steaming coffee cup silhouette. Finished with a red mahogany stain and sealed with a clear coat, this set includes four 4" x 4" coasters. Each coaster has rubber tabs on the bottom to prevent scratching of the surface they're set upon.
Coasters from Shelby Marie Poetry are stained, hand stamped with inks (no vinyl) and sealed with 3 layers of clear coat in Shelby's studio in Ontario, Canada. Each set is truly unique!
Coaster sets make for a wonderful gift!