---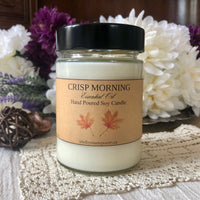 Crisp Morning is an exclusive in house blend of invigorating peppermint, crisp eucalyptus and fresh orange. A delightfully fresh aroma reminiscent of the joy of an early morning.
This hand poured soy candle from Shelby Marie features pure essential oils and all natural soy wax. Each candle is individually hand poured, is phthalate-free and paraben-free, and is made with a paper core wick. All soy candles are dye and lead-free, and burn longer and cleaner than paraffin candles.
10.6 oz | 60+ hr burn time
Note: This candle contains pure peppermint, eucalyptus, and sweet orange essential oils. Some essential oils are not suitable for use around pets or children. Please do your research before purchase.